Complete the form to get your eBook!
Which Industrial Hose Material Works Best for Your Application?
Industrial hoses are manufactured to be durable and flexible, enabling them to withstand demanding conditions. It is important to make sure the hose's material is compatible with those conditions of the intended application.
This eBook provides an overview of different industrial hose materials, their benefits and applications, and key factors to consider when selecting one for your application.
Inside, you'll find info on: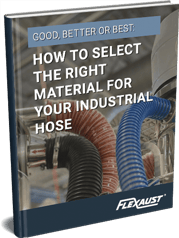 Features and Benefits of different industrial hose materials
Most common materials used across different industries
Key factors to keep in mind, like dealing with extreme temperatures or other conditions
Hose innovation ideas
And much more!
Fill out the form to get your free copy today!